| WATERS TEMPORARILY CLOSED UNTIL FURTHER NOTICE FROM THE FEDERAL GOVERNMENT
CORONA UPDATE - 08/02/2021:
Dear Waer Waters guest,
Waer Waters is forced to close until further notice from the Federal Government.
Follow our social media & covid page under 'Relax' for the latest updates. We will keep you informed via mail, social media and our website. We thank you in advance for your understanding & hope to welcome you again soon.
Team Waer Waters
MORE INFO & LATEST UPDATES
close
Discover our wellness resort
Unite
Enjoy to the fullest in a quiet zen atmosphere a relaxing and satisfying we-moment. Reconnect with your inner self and your loved ones in the dressed 'Unite' zone of our thermal baths.
Zen
Experience an oasis of blissful tranquillity and enjoy a me-moment in absolute silence in the dressed 'Zen' zone. The Zen zone is the ideal place to escape from the daily hustle and bustle, to fully regain yourself and to recharge your batteries.
Re-energize
Experience pure wellness in 'Re-energize'. Re-source completely and let your mind experience a unique experience in our naked zone. Experience a true relief and feel completely reborn.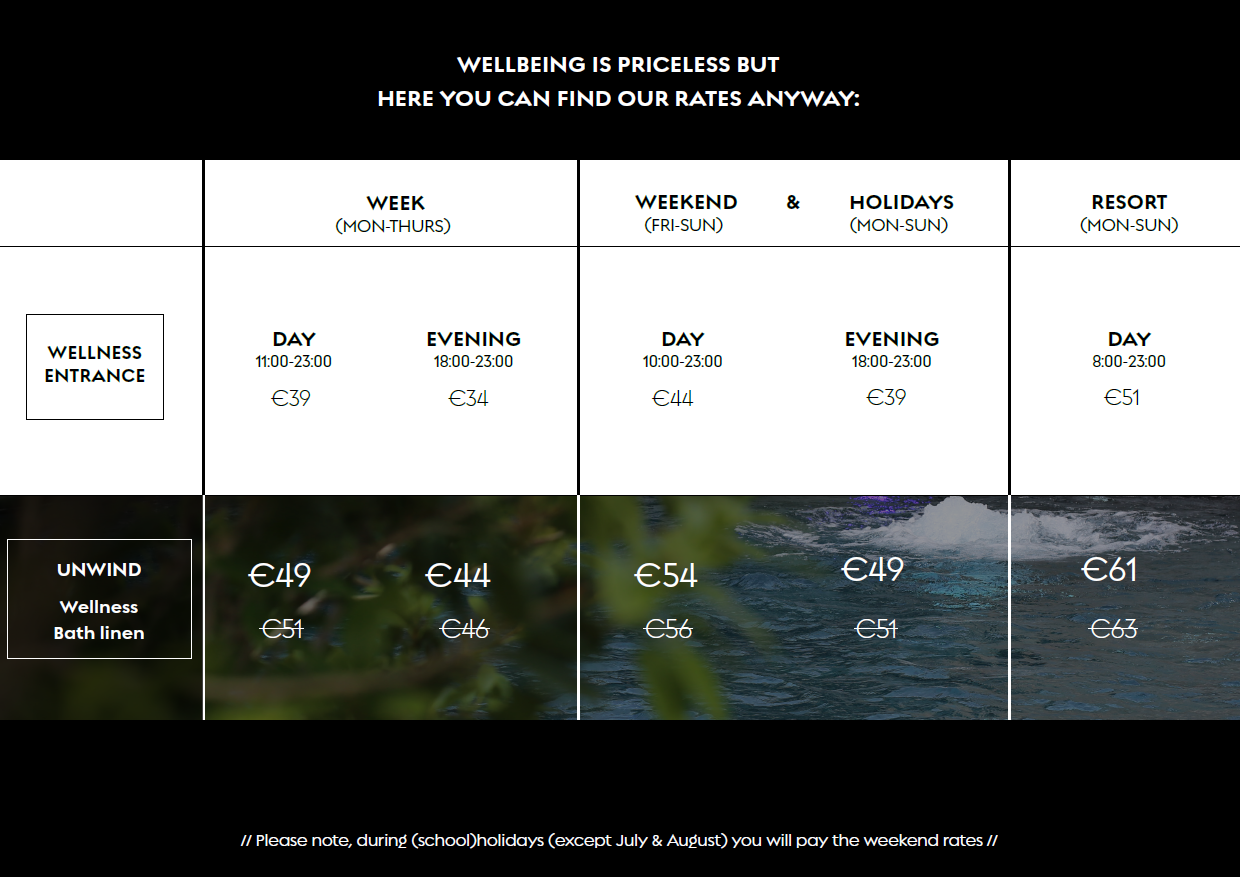 Make your day of pampering complete
FACE & BODY TREATMENTS
Take a moment for yourself and allow yourself to be enveloped in a feeling of unparalleled comfort in a peaceful environment. Let yourself be pampered from head to toe and give your mind a break. Trust our skilled massage therapists to relax your body and choose from a wide range of body treatments.
DISCOVER OUR TREATMENTS
GASTRONOMY
As a sauna guest, you can dine in your bath robe at one of our three wellness restaurants: O'live, O'bergine and O'so sweet. Non-wellness visitors can enjoy a delicious culinary experience in Brasserie Rodenberg.
Discover our gastronomy
EXPERIENCES
Discover our extensive and unique programme of experiences with sauna, scrub and meditation sessions. Immerse yourself in one miraculous discovery after another and be delighted by the different experiences on offer.
Discover our experiences
Give the gift of relaxation
Give someone a wonderful day of wellness, full of relaxation and pampering, and surprise them with 12,000m2 of pure pleasure.
Order your gift card
The place to be for a "mini vacation"

Olivia Bana
A very nice spa. I loved it and the staff are very kind and helpful.

Gwenlita Boloce
Ricardas Gaurys