Pools
From indoor and outdoor pools, to Jacuzzis, plunge pools, Kneipp baths and natural swimming ponds surrounded by the pure beauty of nature. Let the water jets massage your body, cool off after the sauna under the dump bucket or how about refreshment under a waterfall? You will experience it all at Waer Waters. Discover all the pools below and dive from one experience into another.
Cool down after a visit to the sauna
After surrounding yourself with heat, cool yourself down for a few seconds. 10 to 15 seconds is sufficient to get your body to cool down. Submerging yourself in cold water alters your blood pressure, stimulates your body to eliminate toxins and helps the muscles to relax.
Go ahead, take the plunge
Take a walk in the cool outside air, enjoy a refreshing rain shower, take a dip in the swimming pond or a relax in one of the many plunge pools and swimming pools.
Experience and conquer
The feeling of well-being you'll experience in your body will convince you to go for a second thermal cycle. You've never felt this relaxed. It's a revelation! It changes your life!
Did you know that all waer waters baths are low in chlorogen?
Salt electrolysis is used to sterilize all of our bathtubs. Sodium chloride is the chemical formula for salt. The Sodium is separated from the Chlorine during the salt electrolysis process, leaving a softer variety. Salt electrolysis is based on a very simple principle reminiscent of the sea and its ecosystem.
The benefits of salt electrolysis
It's more enjoyable to swim in and has a gentler feel.
Because of the high salt concentration in the water, it does not dry out your skin. This is because our bodily fluids include salts, and pool water has a salt content that is similar to that of our body fluids.
Prevents skin irritation and red eyes.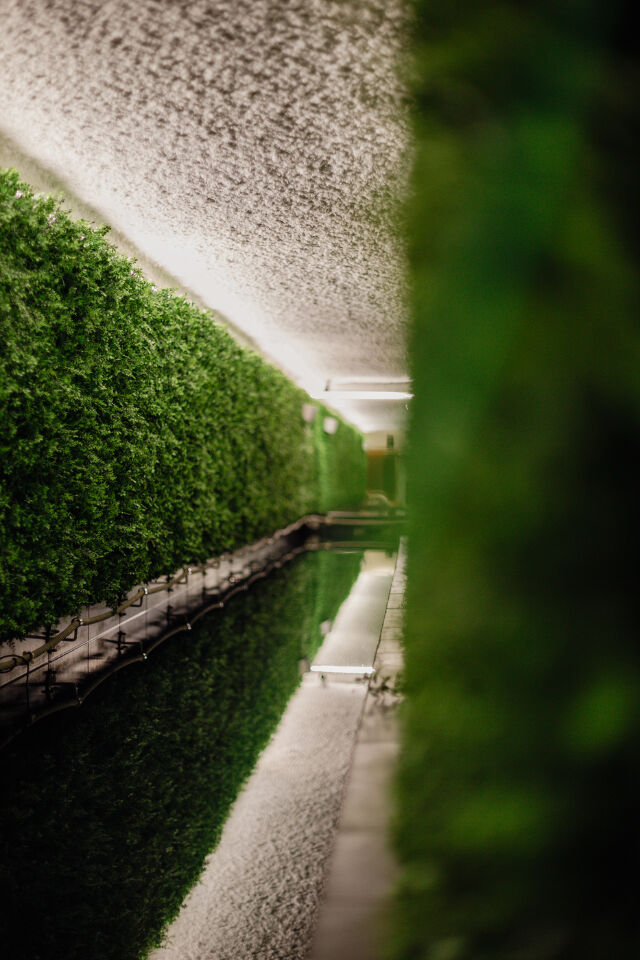 New: Green Oasis
We immerse you in a green oasis. Drifting in a warm bath where the walls are adorned with vibrant greenery.
It's as if you're in the heart of nature, somewhere far from here, surrounded by the soothing and rejuvenating power of green flora.
As you surrender to the warm water, the green environment works its magic. It's like taking a deep breath in a lush forest, right in the lap of our luxury resort.
Step into this Green Oasis and let yourself be carried away on a journey of total relaxation.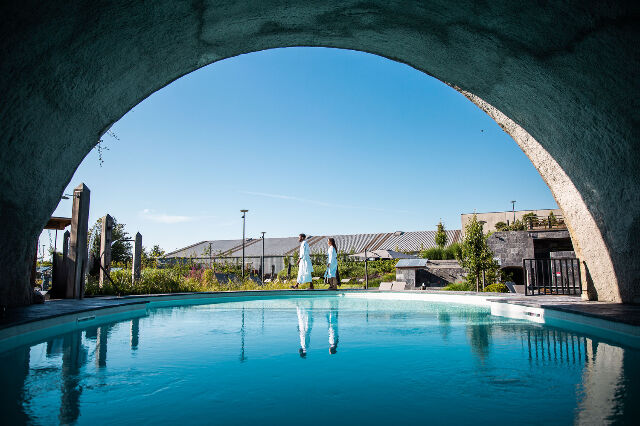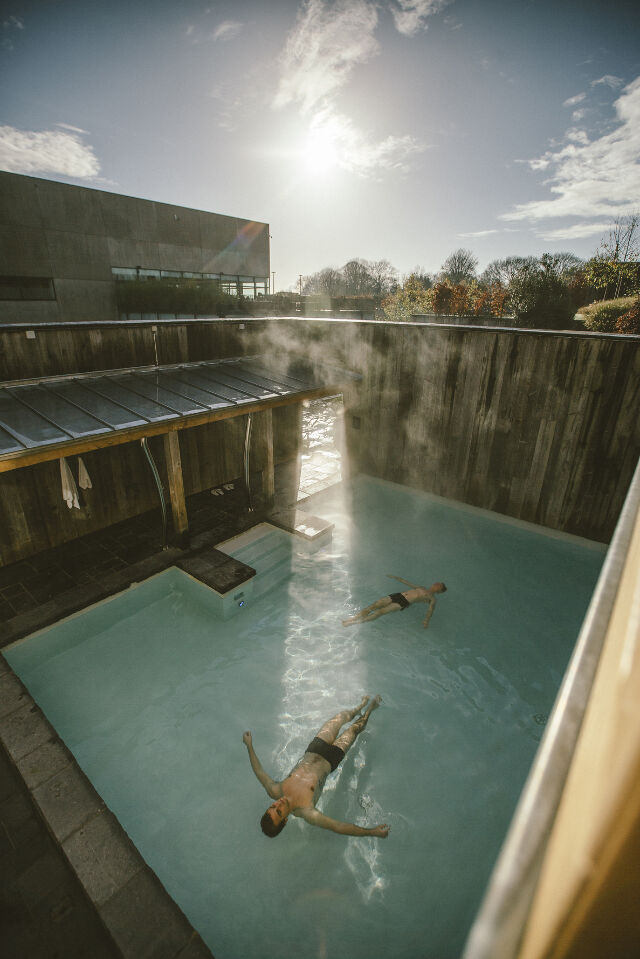 Unite / Re-energize
Dressed & Undressed zone
Open-air floating pool
Close your eyes while the natural sea salt in the 36°C floating pool keeps you afloat. You will experience a pleasant feeling of magical weightlessness. You can hear beautiful, relaxing music playing underwater. The sea salt has a healing effect on your body.
Did you know that.... the salt we use in our floating bath is not ordinary table salt, but bittersalt. It is of much higher quality than ordinary NaChl. That explains the bitter taste.
Epsom salt or magnesium sulfate (MgSO4), also known as bittersalt or English salt, is a natural mineral compound of magnesium and sulfate (sulfur), two important and essential substances for the body, which has several therapeutic, cosmetic and practical uses.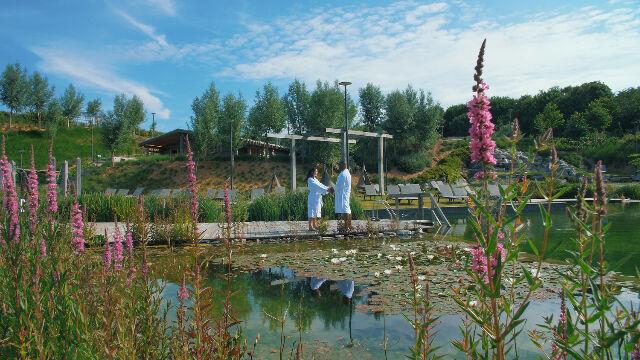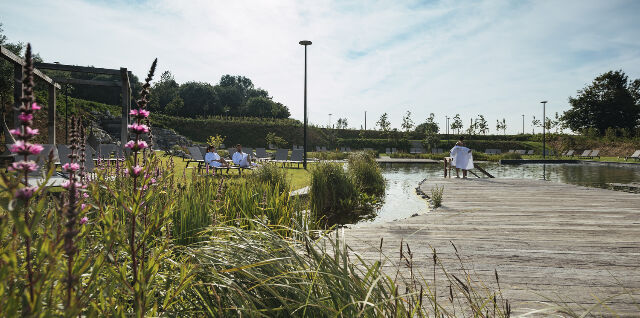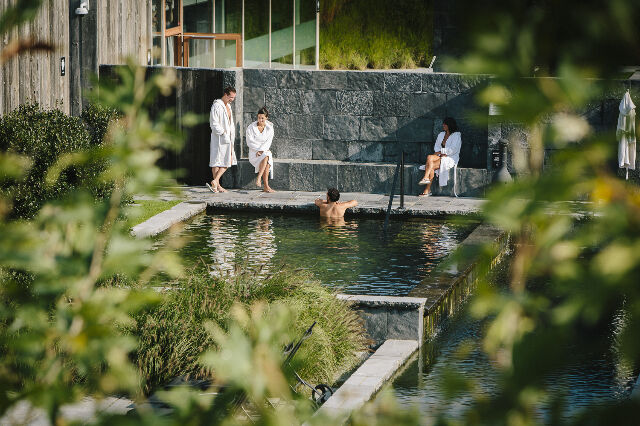 Unite /Zen/Re-energize
Dressed & Undressed zone
Natural swimming ponds
Experience the wonderful feeling of bathing in natural water. Enjoy pure nature. Admire the beautiful flora and fauna. The water is purified through organic means in a specially created marsh of purifying aquatic plants. The swimming pond is not only great for your skin, but also for nature!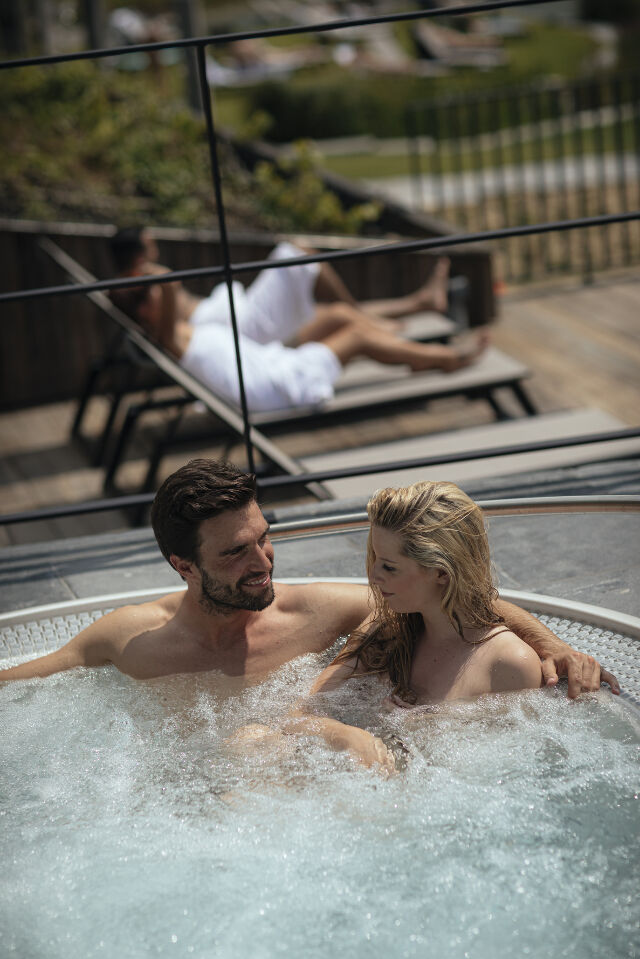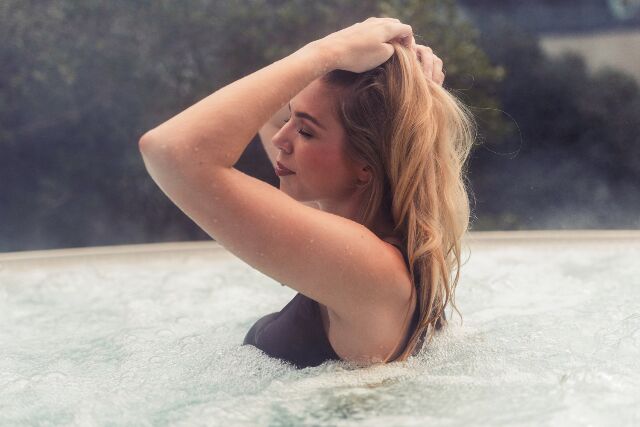 Unite / Zen / Re-energize
Dressed & Undressed zone
Jacuzzi
A hot tub, Jacuzzi or whirlpool is a pool heated to around 37/38°C, in which bubbles are created with air. The rising bubbles and water jets give your body a wonderful massage and allow your muscles and joints to relax completely. Experience the relaxing and stress-reducing effect of the bubbles on your body.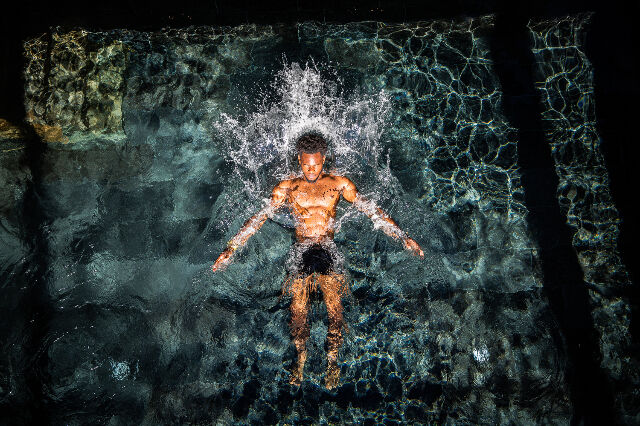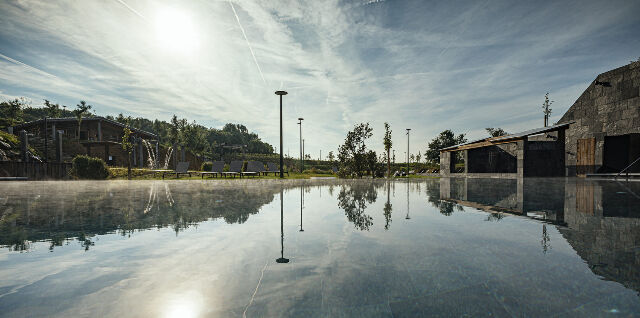 Zen / Unite / Re-energize
Dressed zone & undressed zone
Heated indoor and outdoor pools at 36 ° C
You can optimally enjoy every season in the heated outdoor swimming pool at 36°C.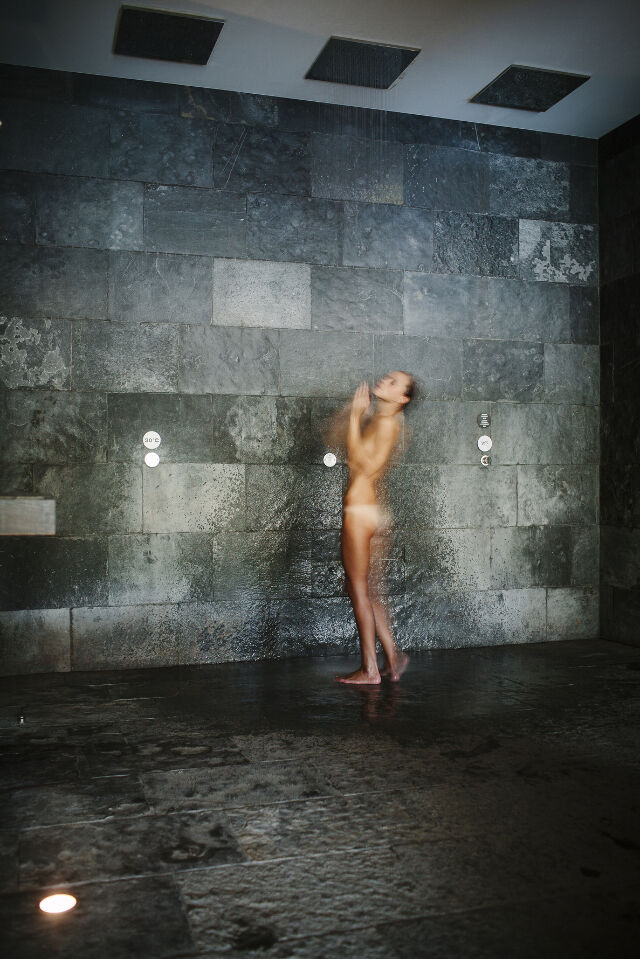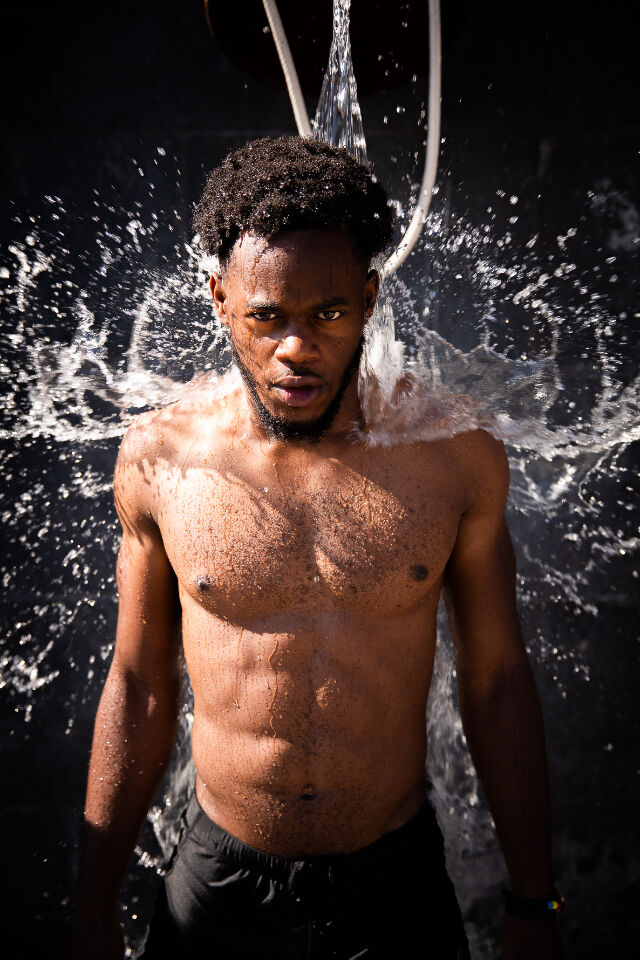 Unite /Zen / Re-energize
Dressed & Undressed zone
Bucket shower/ Rain and experience shower
The rain shower and bucket shower are the ideal way to quickly cool down your entire body after a sauna visit. The refreshing water stimulates circulation, is good for your skin and boosts the immune system. The bucket shower empties a powerful surge of water over body. You can quickly remove yourself from the cold water, which means it's easier to withstand.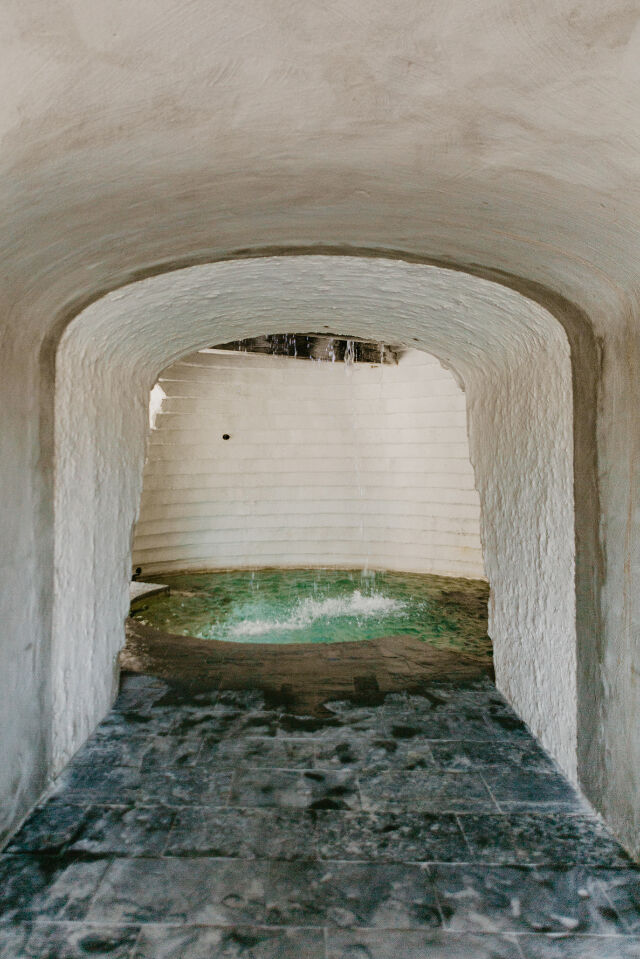 Re-energize
Undressed zone
Waterfall cave
The waterfall cave is a lovely location to cool down in the shade while enjoying some nice cold water. Under the water jet, you'll get a fantastic massage.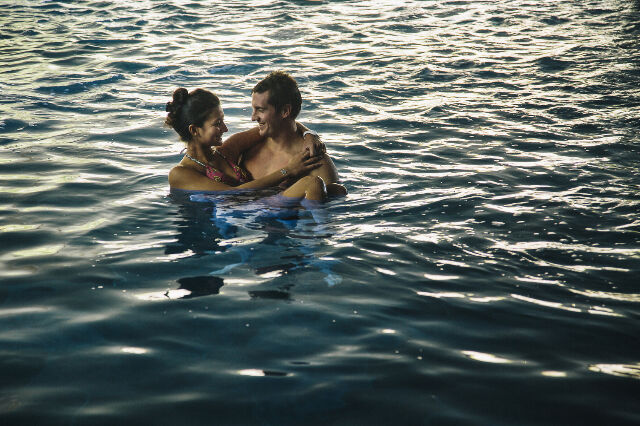 Unite / Zen / Re-energize
Dressed zone & Undressed zone
Heated plunge pools at 36°C
Relax in the 36°C heated plunge pools.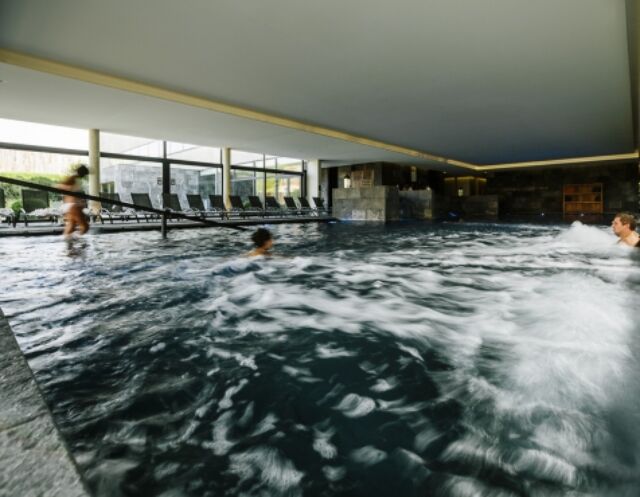 Unite / Re-energize
Dressed & Undressed zone
Swimming pools at 32 ° C
Relax in our heated swimming pools.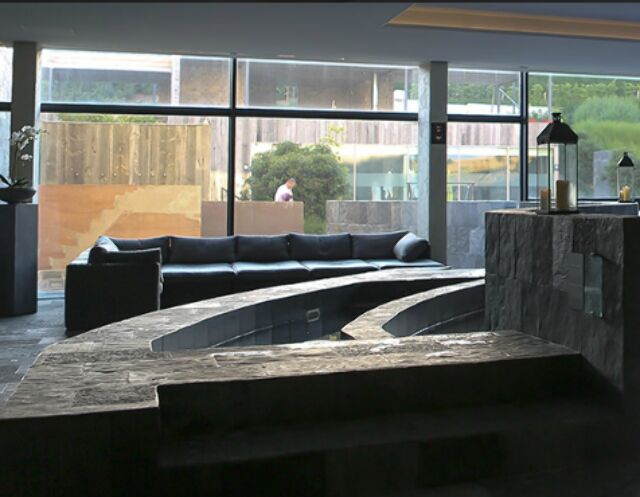 Kneipp bath
In the contrast bath, cold and warm water are used alternately when bathing or showering. The alternating temperatures are considered to have therapeutic benefits, such as in Kneipp therapy.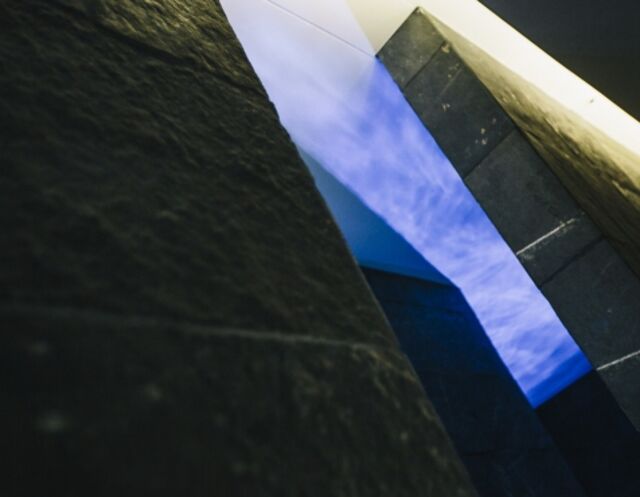 Cold plunge pools at 12°C
The most traditional way to cool yourself down is to submerge yourself in a cold plunge pool. Don't forget to cool off your head too, otherwise the heat will rise to your head and you may get a headache.