Saunas
Let the pleasant heat of the sauna or hammam surround you like a cosy blanket and experience the restorative and cleansing effect on your body. Our saunas are a true gift to both the body and the mind.
Sauna, as a first step in your sauna journey
The first step in the thermal cycle is to expose your body to intense heat. Relax for 10 to 15 minutes in the sauna or hammam and allow the healing heat to blanket you. The increase in body temperature expands your blood vessels, lowers your blood pressure and increases blood flow to the skin and muscles. Experience a feeling of peace and go deep within yourself.
Breathe and live in the moment
The experience may surprise you if you're not used to it. Close your eyes and surrender fully. This is your opportunity to rest in a meditative state, to talk to yourself and to allow your thoughts to run free.
Listen to your body
In order to achieve the desired effect and to obtain the maximum number of benefits from your sauna visit, we recommend you spend at least 10 minutes in the sauna. However, never exceed your own limits and always listen to your body. If you're too hot, try sitting lower down where it's cooler. If you don't feel good, simply leave the sauna.
In the sauna
Start your sauna visit by taking a shower to clean your body. Dry yourself off to encourage sweating.
For hygiene reasons, do not wear slippers in the cabin, instead place them in the designated space before you enter the sauna.
In the sauna, rest your body completely on a towel. You can start on the lowest bench. You can either sit or lie down but it's advisable to place your feet on the same level as your buttocks. This keeps your body at an even temperature.
Unite / Zen / Re-energize
Dressed zone & Undressed zone
Infrared sauna
The infrared sauna relaxes your muscles and relieves any pain in your joints. Infrared saunas have been increasing in popularity over the past few years. In contrast to the traditional Finnish sauna, an infrared sauna works using (invisible) infrared radiation heat that is generated with different types of heaters. What makes infrared heat different is that the heat is transferred to the skin without heating the surrounding air. An infrared sauna is therefore not actually a sauna, but rather a radiation heat cabin.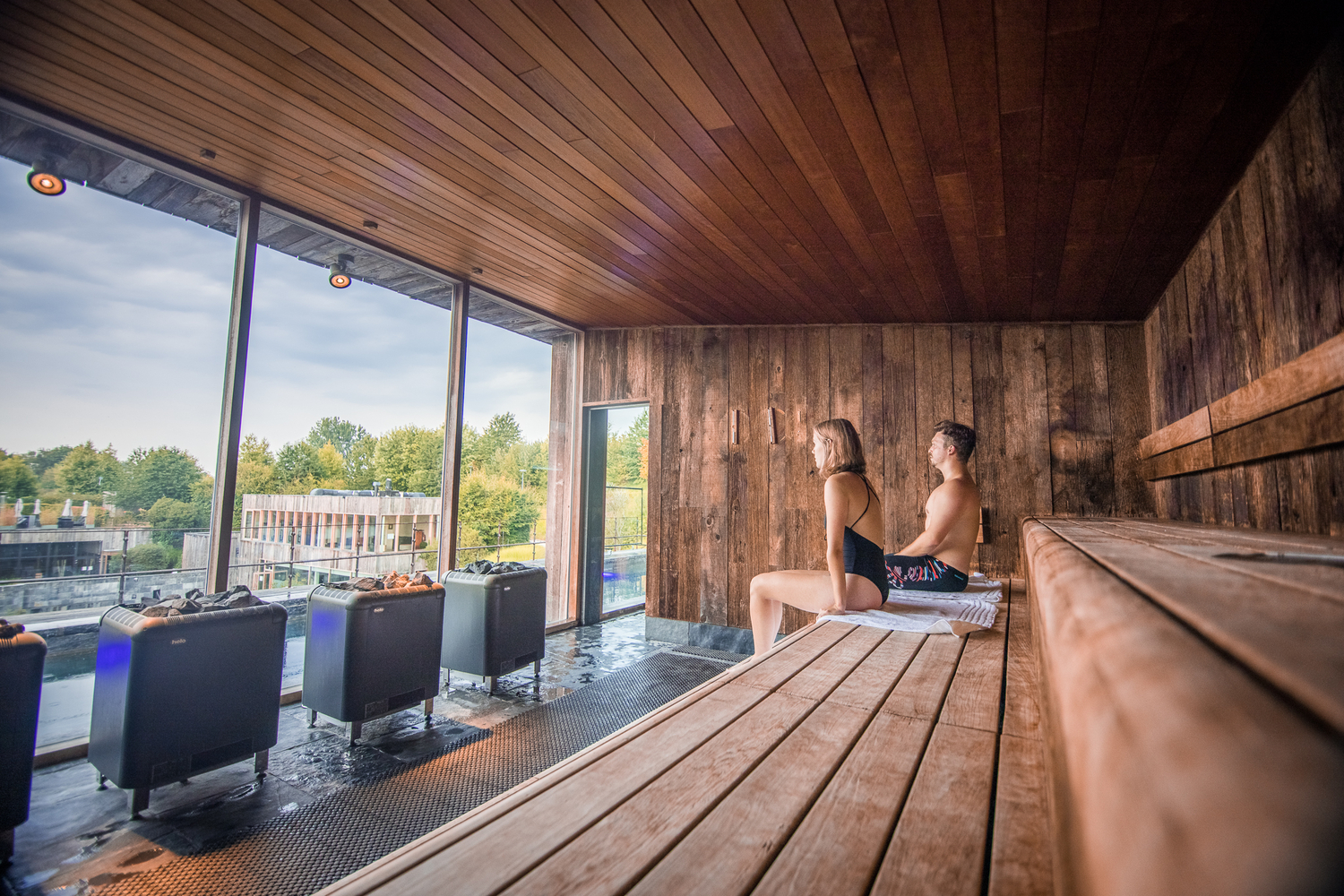 Hot sauna
The hot sauna has a beneficial effect at 90°C and is the hottest sauna at Waer Waters. You can enjoy a breathtaking view of the entire complex in a dry, pleasant heat.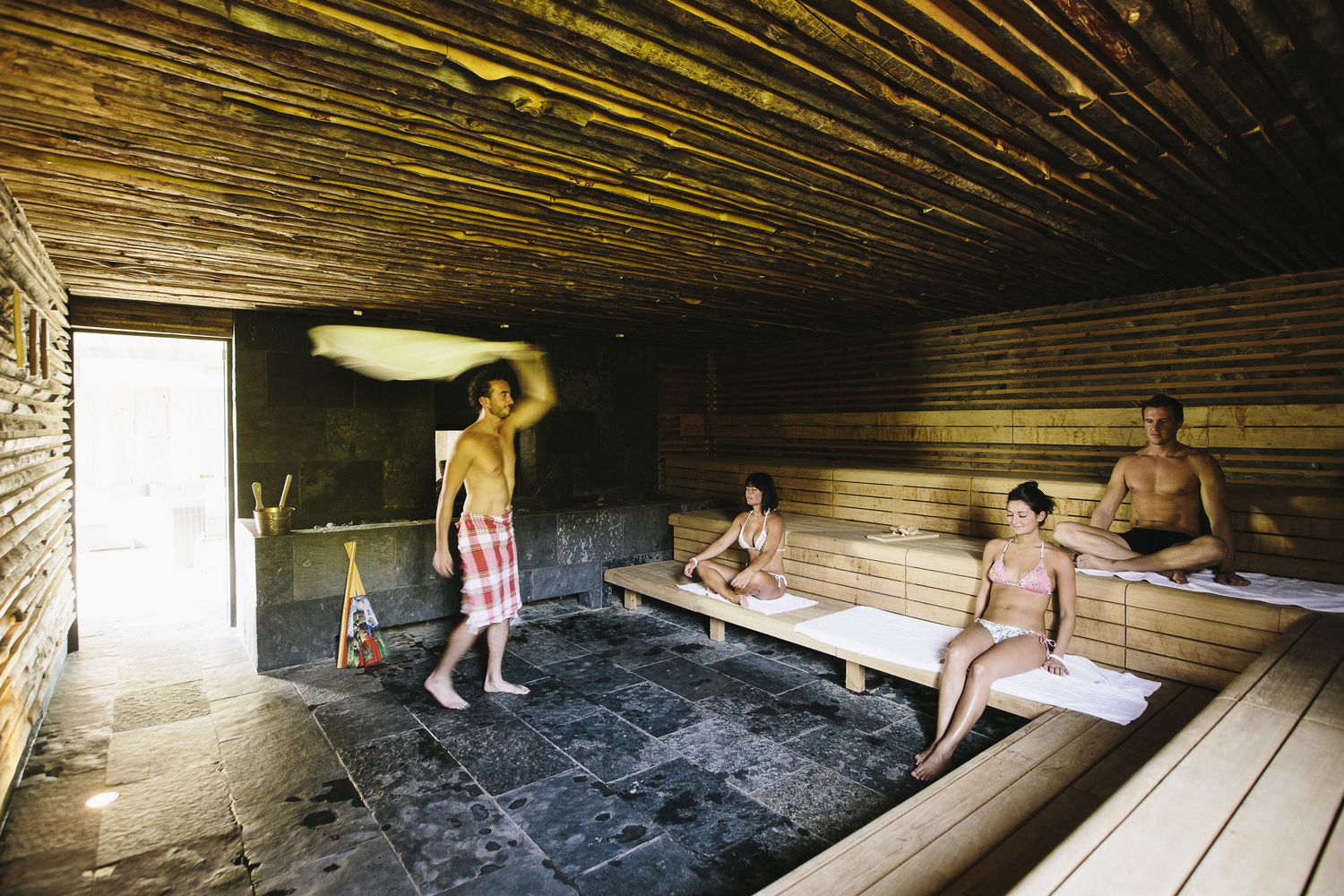 Kelo sauna
The authentic Kelo sauna, built with priceless, centuries-old, silver-grey wood from spruce logs, with its mild radiation of heat is without a doubt Waer Water's most impressive project. Due to the ingenious structure, you feel an optimal sauna effect on all sides of your body.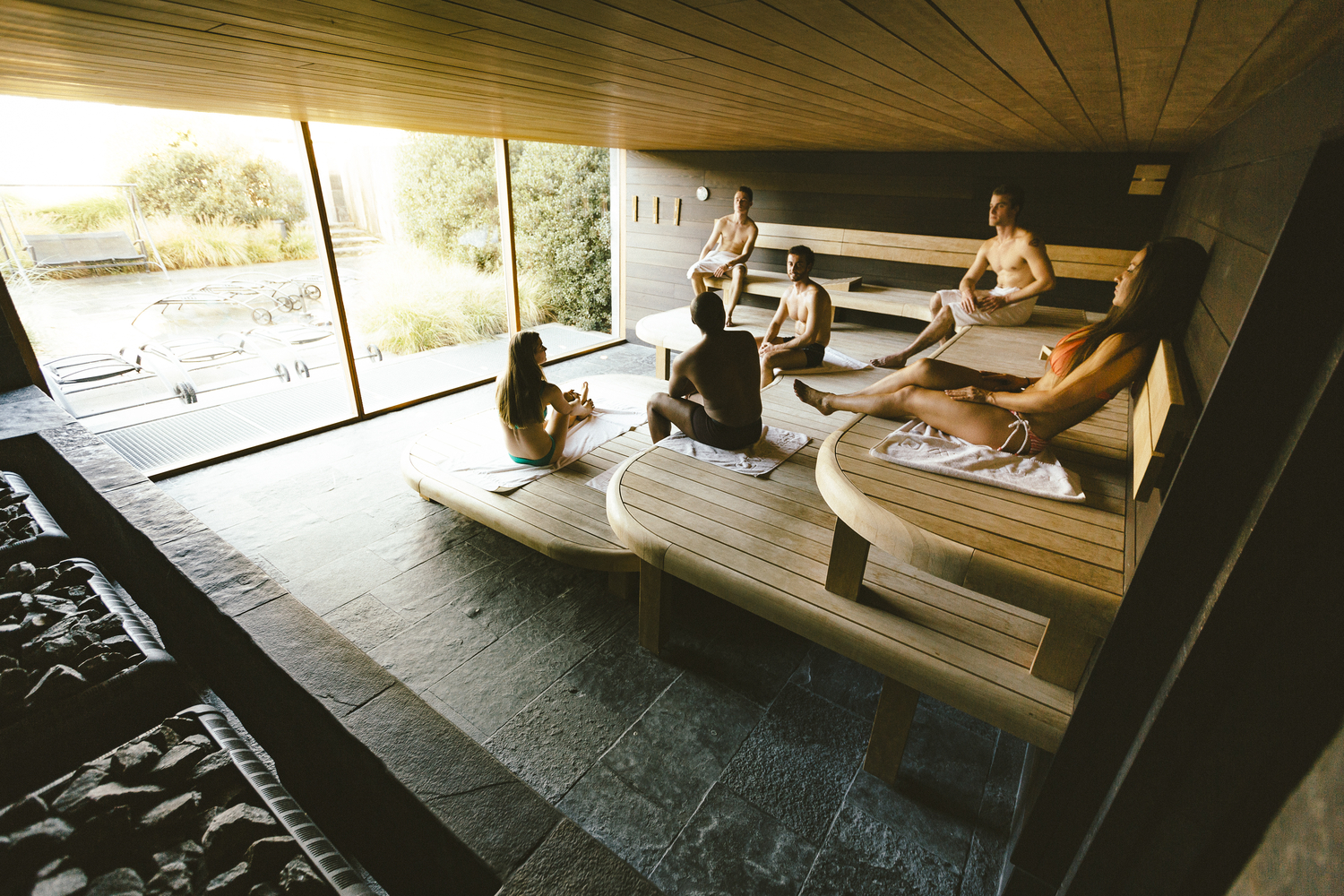 Panorama sauna
Enjoy the unique view in the panorama sauna, in a dry environment (80°C) with low humidity (30%).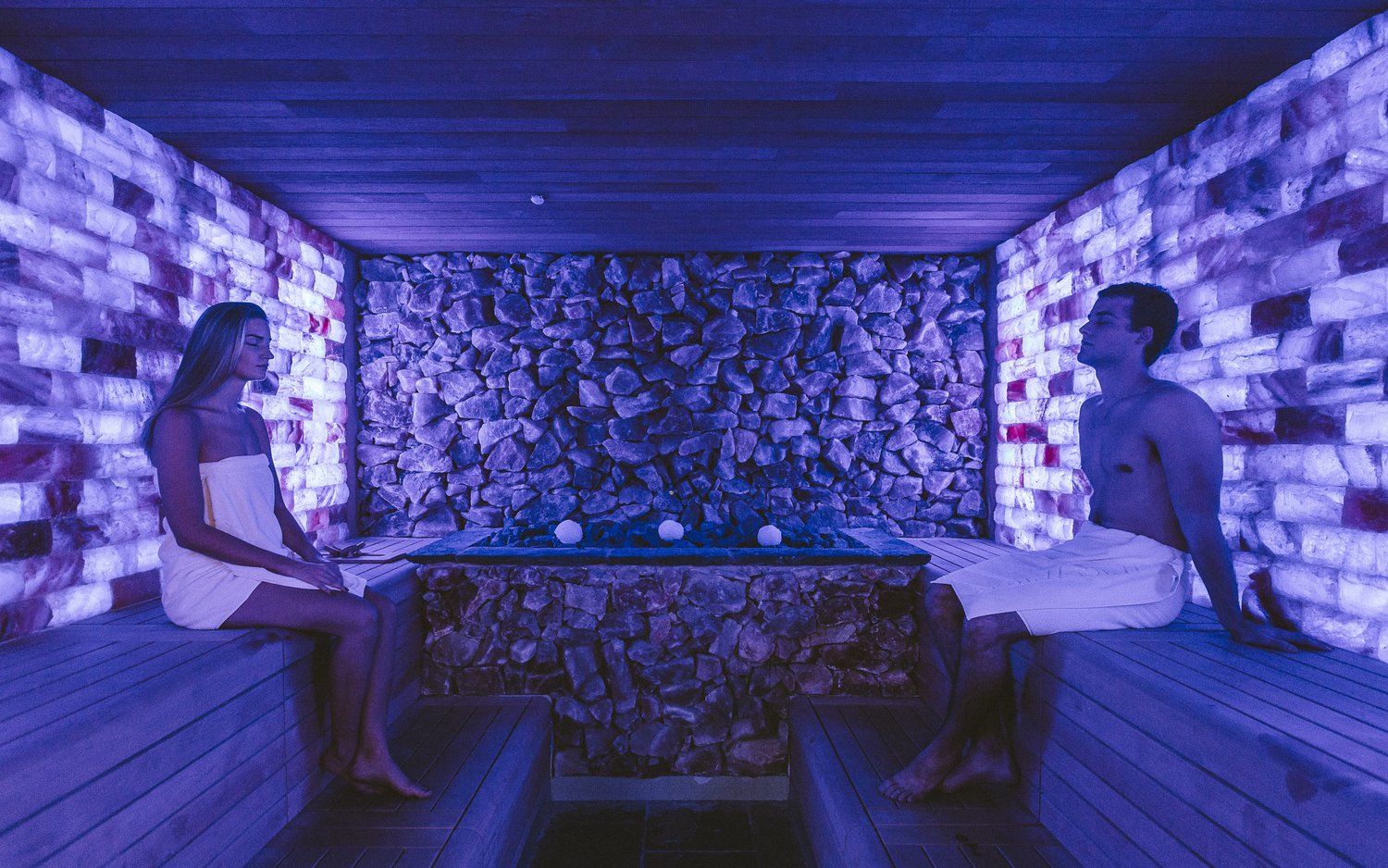 Himalayan salt sauna
Bathe in warm air with natural salt from the Himalayan mountains. When this salt is heated, minerals are released that ionise the air and purify your body and mind. This sauna is especially suited for people with bronchitis, asthma and hay fever. Himalayan salt has a detoxifying effect on your entire being.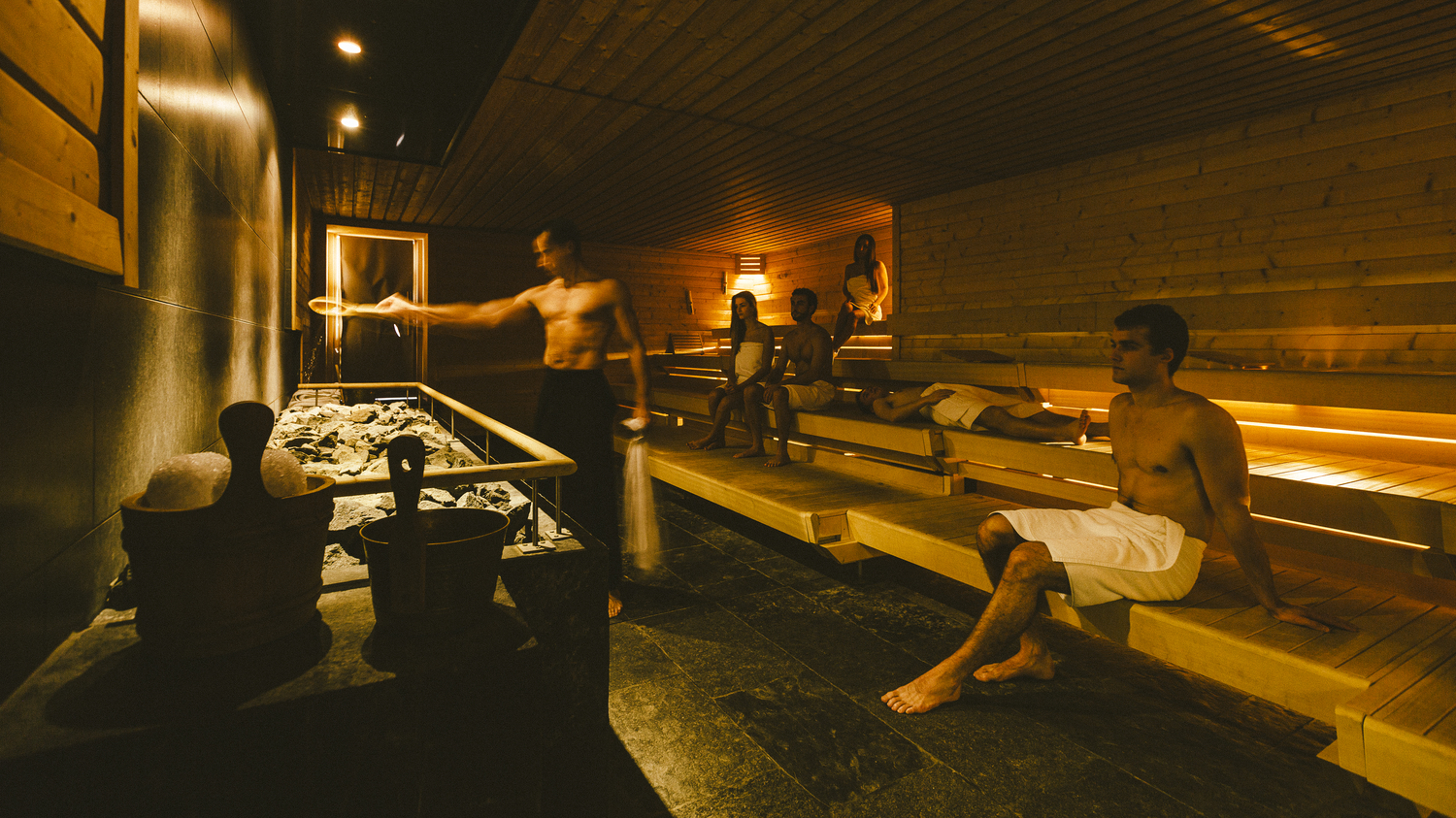 Aufgusstheater
Aufguss is the international term for the ritual of pouring water on a sauna stove. A sauna master uses water, ice and essential oils and pours them onto the stove. With a towel, he fans the air to agitate the insulating layer of air around your body. This gives you a goosebumps moment. Steam containing water and various essential oils blows away the insulating layer of air around your body. The 'Aufgussmeister' guides you throughout the entire session.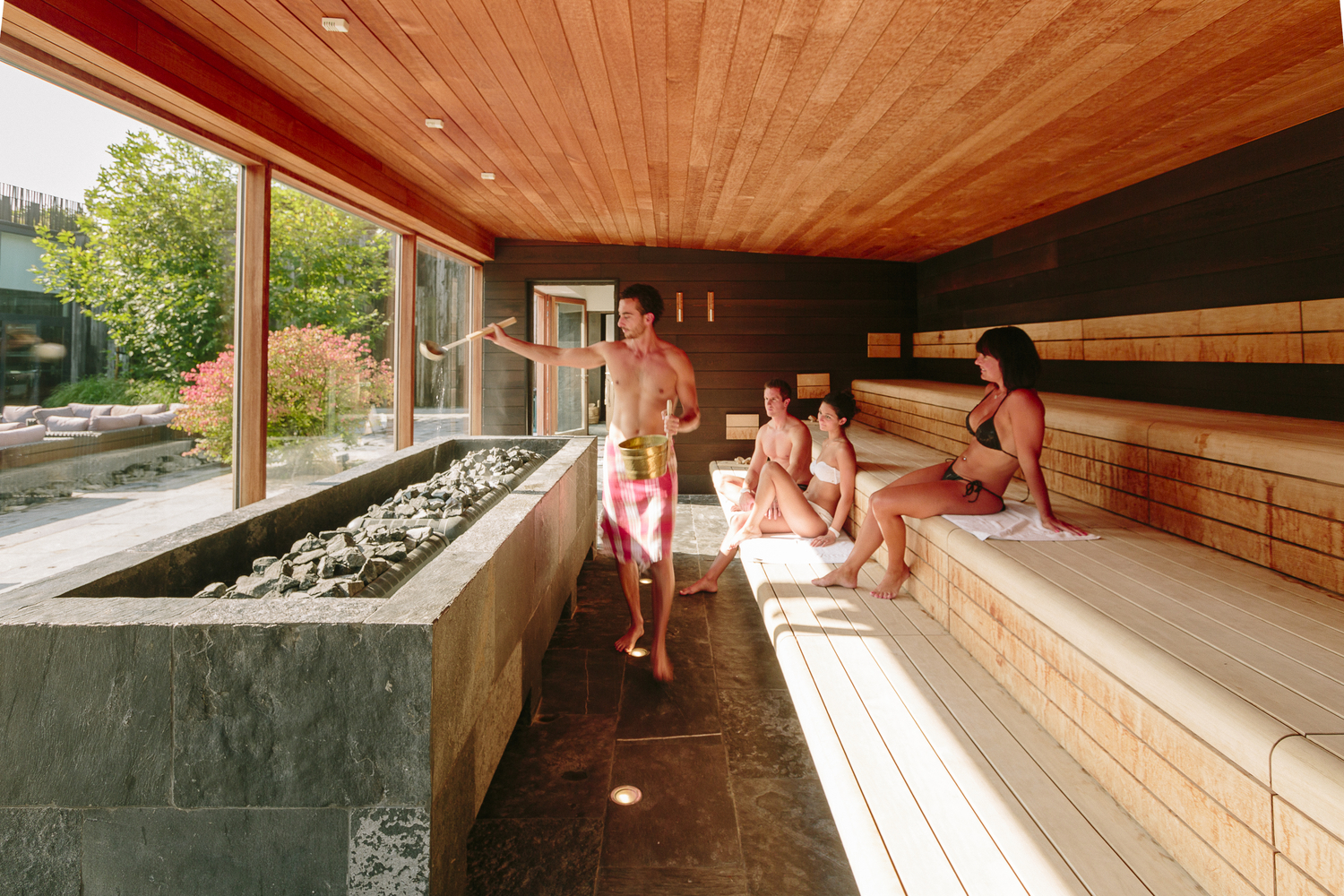 Löyly sauna
Saunas originated in Finland. The word sauna refers to a room with hot air where people go to sweat. The temperature is high and the humidity is as low as possible. A splash of water on the hot stones creates a heat boost. The hot water particles quickly spread throughout the space and then drop onto your skin, making it sweat profusely. This heat is considered very pleasant. Löyly means the effect after pouring water onto the stove.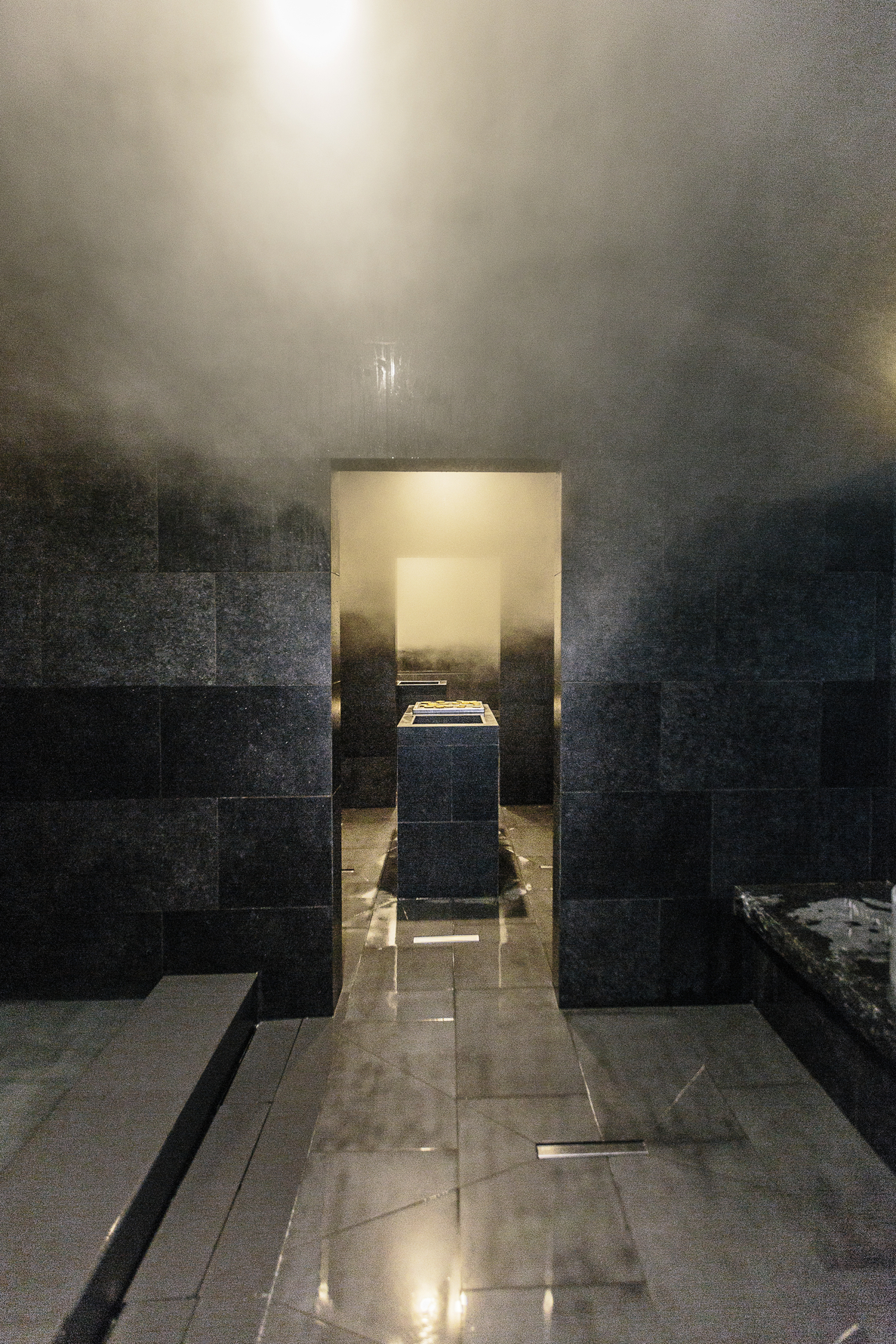 Unite / Zen / Re-energize
Dressed & Undressed zone
Hammam
Go back in time, take a seat in the Arabic-inspired hammam and feel the beneficial effect of the moist steam on your skin. The heat from the hammam will embrace you like a soft blanket and allow your body and mind to enjoy deep relaxation. Due to the healing effect, hammams are also known as 'silent doctors'.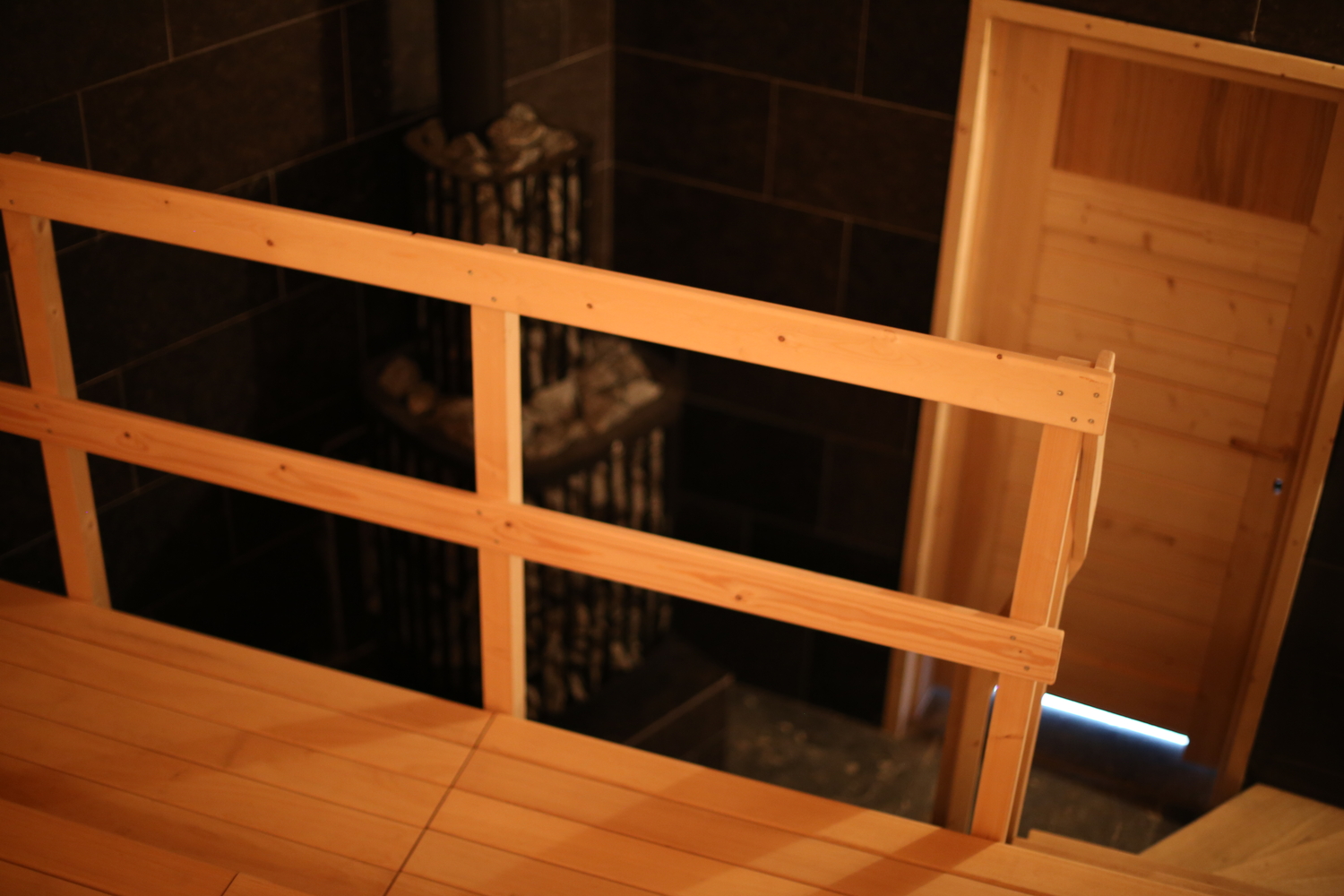 Re-energize
Undressed zone
Loft sauna
A loft sauna is a sauna that is heated to 80°C by a fire. This sauna differs from other saunas due to its architecture; it has different floors.
Bio sauna
A bio sauna has a manageable temperature of 60°C and is therefore the perfect start for a sauna visitor with no prior sauna experience. In the bio sauna, the air humidity plays a prominent role—more so than in a Finnish sauna. With a temperature of 55°C to 60°C and a humidity of 40 to 60%, bio saunas are easier to handle and more pleasant than a dry sauna where the temperatures are much higher and the humidity lower.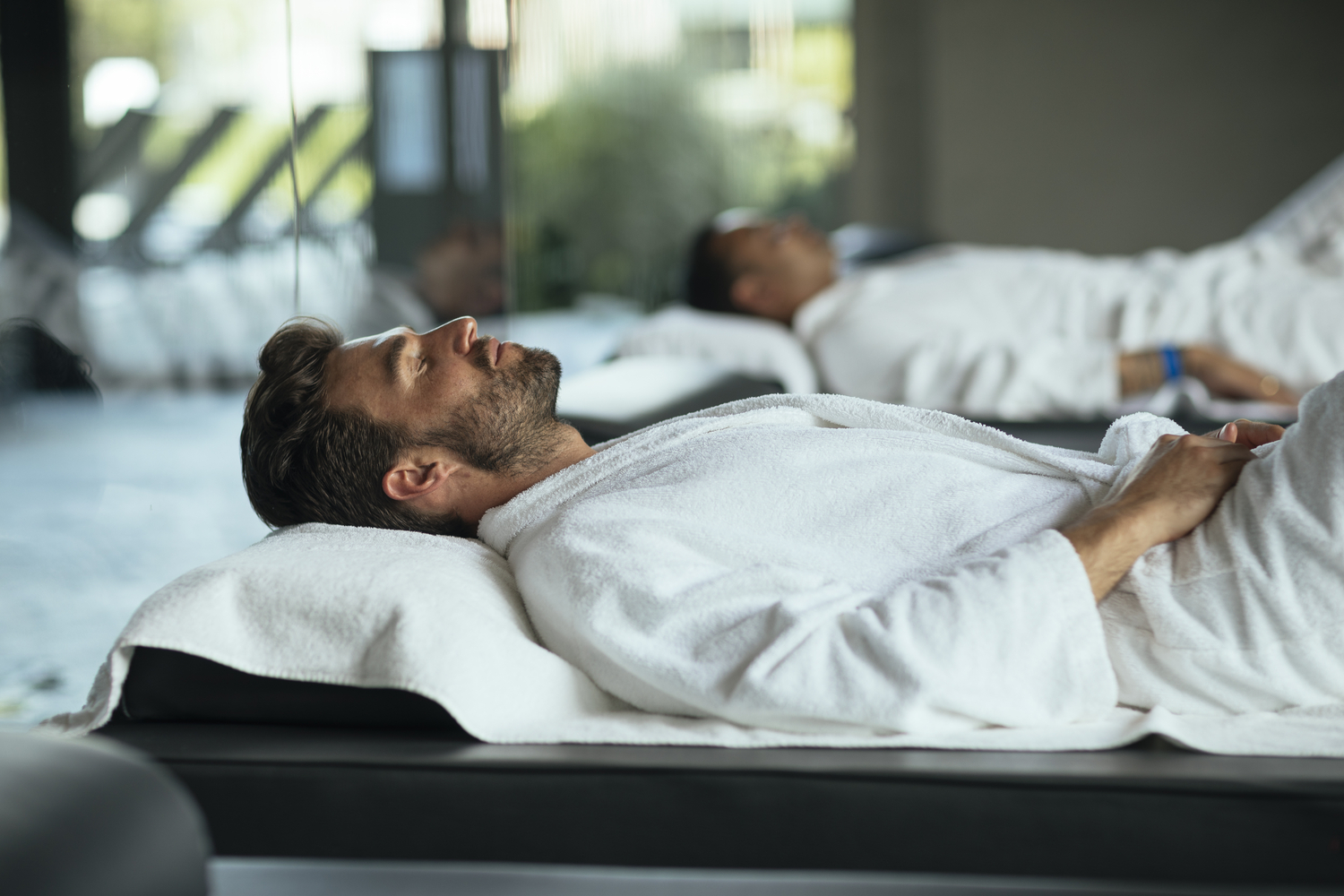 Caldarium
Caldarium, also called 'calidarium', is Latin for 'hot room'. This room has a humid and warm climate with a humidity of 100% and a temperature of around 45°C. No extreme heat, just pleasant relaxation. Since the body warms up slowly, this room is often used as preparation for the high temperature of the sauna. Even though the temperature in the caldarium cannot be compared to the intense heat of a sauna, it does create a lovely, relaxing sensation.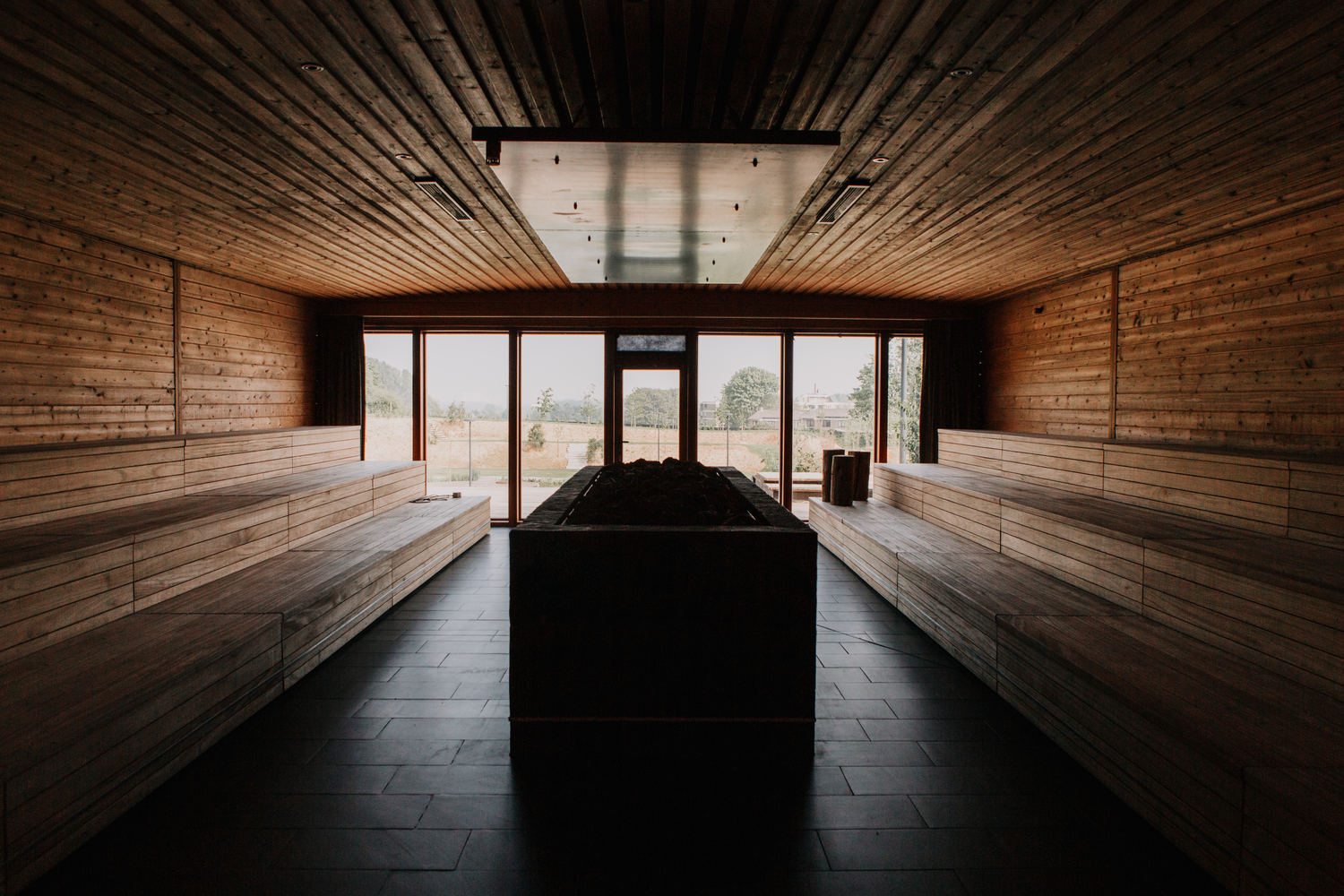 Re-energize
Undressed zone
Eventsauna
In the Eventsauna you will enjoy, besides the countless experiences, a breathtaking panoramic view of the Re-Energize zone, with a view of the Brussels skyline. No fewer than 130 guests can sit in the sauna cabin.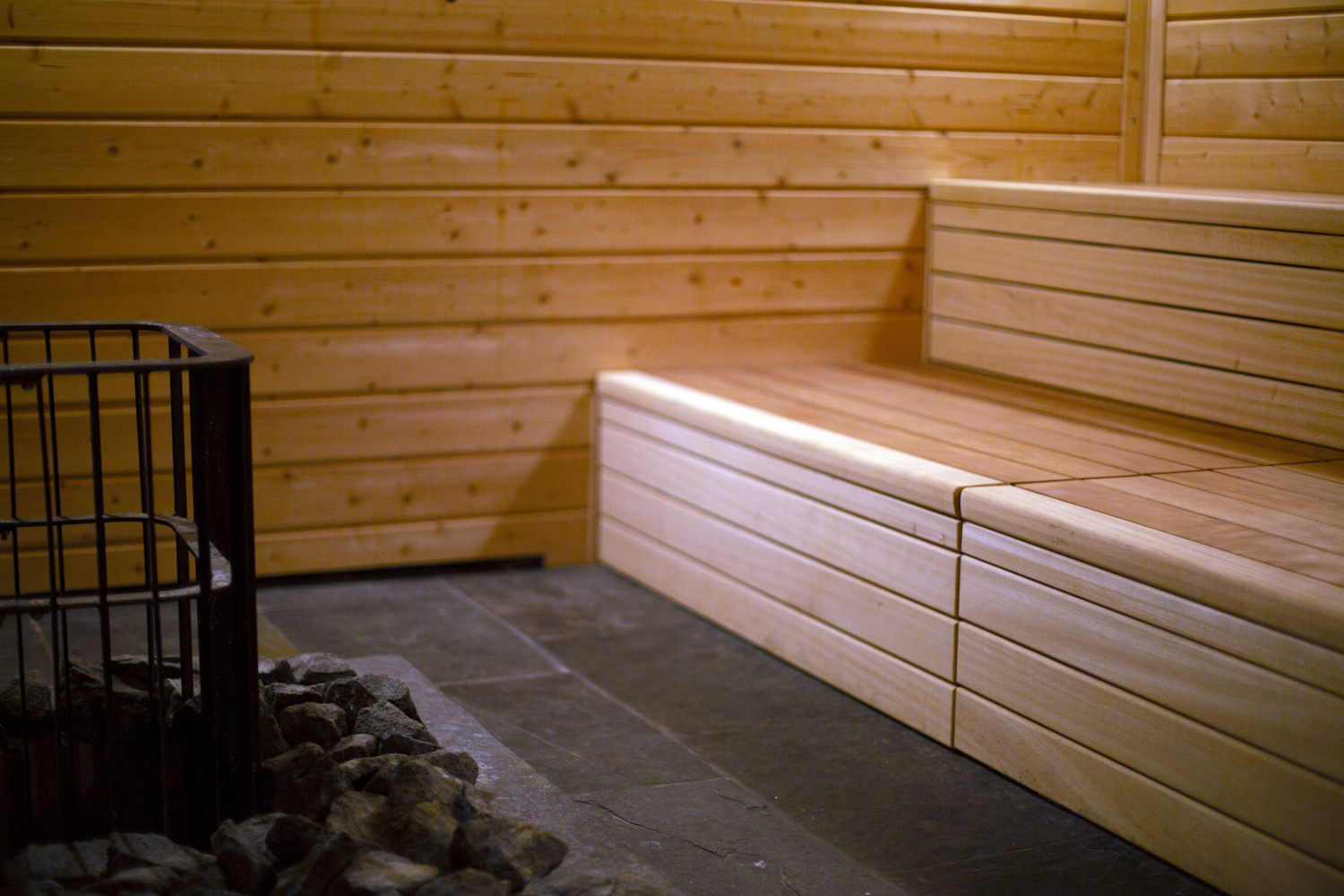 Re-energize
Undressed zone
Maa Sauna
A true die-hard sauna enthusiast can indulge in their desire in this small primeval sauna. Experience an authentic Finnish experience and give your health a big boost. With a temperature of 60°C-80°C you are still in a pleasant and tolerable heat. The Maa sauna cabin, a combination of a wood-fired sauna and an open fire, is built half underground so that the heat is retained for longer in a natural way. The name "Maa" is the Finnish word for "soil". Relaxation in a perfect sauna climate.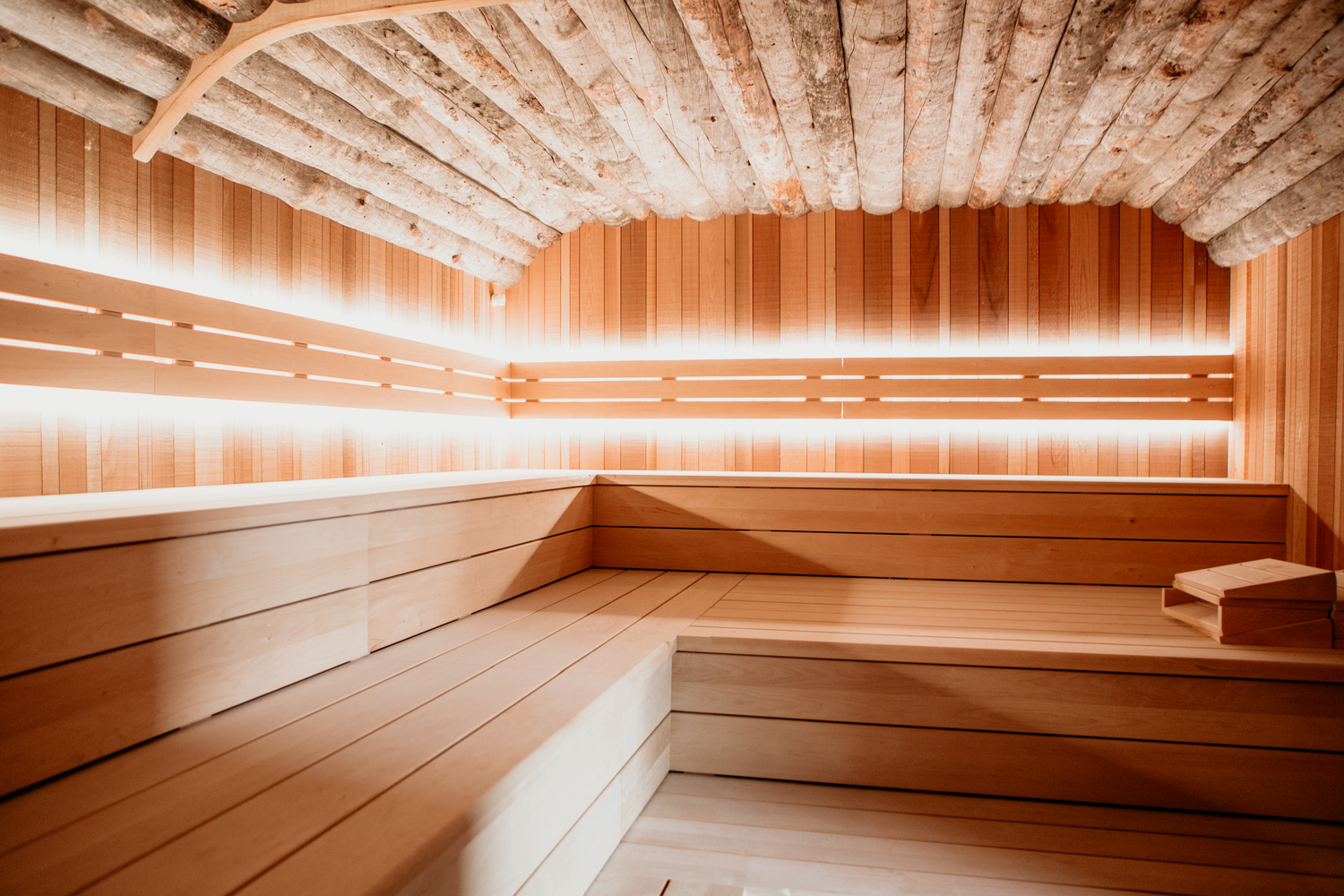 Re-energize
Undressed zone
Finnish sauna
The Finnish sauna is an absolute must during your sauna walk. The ceiling is entirely made of kelo wood. With its 90°C and modest size, this sauna gives you a great feeling.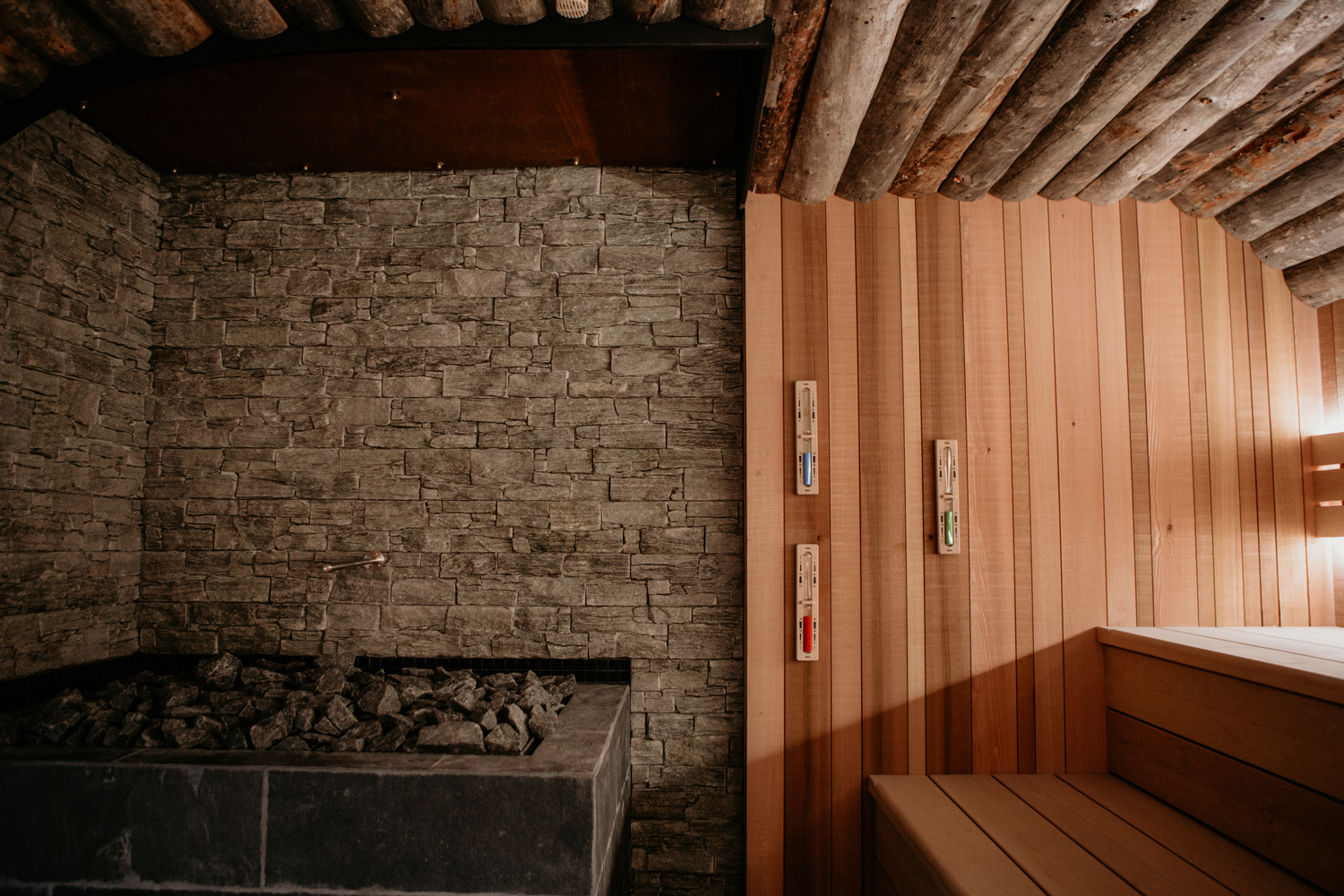 Re-energize
Undressed zone
Aromen sauna
Experience the beneficial aromatherapeutic effect of organic essential oils that can bring you into a different state of mind.
Re-energize
Undressed zone
Log cabin sauna
Experience a Finnish tradition in the largest kelosauna log cabin in Belgium. Around 120 guests can experience the ultimate sauna experience in the characteristic sauna of kelo wood.