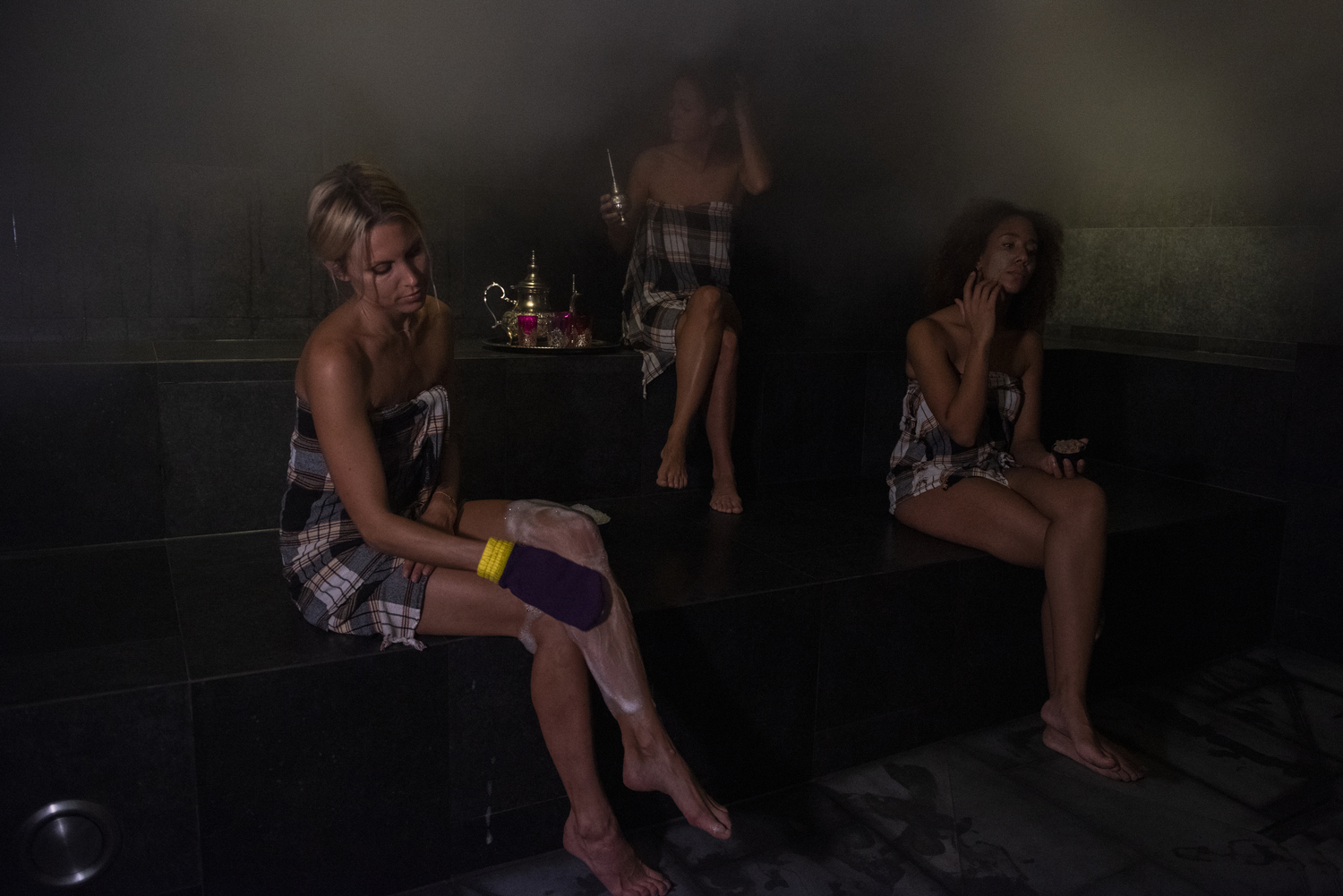 Hammammmm...heavenly relaxation
Woohoo! Summer's here! Au revoir exams, ciao work stress, auf Wiedersehen school rush, and hello holiday! The hammam is the perfect place to blow off some steam and is a miracle cure against stress. A visit to a hammam—a centuries-old bathing ritual that literally means 'hot water source'—is one of the most divine wellness experiences you will ever enjoy. Discover the miraculous effects of the hammam and start your summer feeling fabulous.
The benefits
Silent doctor
Struggling with the changeable weather we've been having in recent weeks? The hammam is the ideal remedy! Regular visits to the hammam strengthen your circulation, and stimulate your metabolism and immune system. The hammam relieves cold symptoms and temporarily clears blocked airways. Its healing effects have lent it the nickname 'the silent doctor'. Since prevention is always better than the cure, why not schedule a visit to the hammam?
Say hello to radiant skin
A visit to the hammam also cleanses your body and is therefore the perfect way to prepare your skin for summer. The ambient heat opens your pores, which allows toxins to be removed and dead cells to be excreted. The hammam session gives your health a boost and makes your skin glow like never before. A two-in-one treatment.
Stress be gone!
If your work and school life has been a source of stress lately, experience the magical effects of hammam on your stress levels. The heat from the hammam will embrace you like a soft blanket and allow your body and mind to experience deep relaxation. At the end, you'll leave with a lovely tranquil feeling, ready to make the most out of your summer.
Hammam + exercise = a match made in heaven
Did you know that hammams and exercise go hand in hand? A visit to Waer Waters is the perfect opportunity to combine a workout with a wellness experience. You can work on your summer body, and the moist heat of the hammam will release the tension in your muscles, preventing muscle aches.
Sleep like a baby
Relaxing in the hammam is the new alternative to counting sheep. A peaceful night's sleep awaits you afterwards, meaning you can begin your holiday feeling well-rested.
Discover the hammam
Go back in time, take a seat in the Arabic-inspired hammam and feel the beneficial effect of the moist steam on your skin. The heat from the hammam will embrace you like a soft blanket and allow your body and mind to enjoy deep relaxation. Due to the healing effect, hammams are also known as 'silent doctors'.
Ontdek de hammam
DISCOVER OUR NEW HAMMAM TREATMENTS
Waer Waters Hammam Experience invites you to a fantastic sensory journey to the Middle East. During our (five) purifying body treatments, get acquainted with the tradition of the oriental bathhouse, one of the best preserved, authentic cleansing rituals in the world.
TAKE A TRIP TO THE MIDDLE-EAST